Delphi Trail - self guided tour - moderate
Pilgrims from all over the ancient world used these trails to get to the Delphi Oracle.
Delphi is blessed not only with a famous oracle, but also with a beautiful mountain. Much of Mount Parnassus is a designated national park and is home to an impressive variety of flora and fauna. The region offers traditional villages, delicious gastronomy, untouched landscapes and warm hospitality. From Polydrosos village on national hiking trail 22, you come to the village of Eptalofos. The European hiking trail E4 takes you to the Eptastomos cave and from there to the cosmopolitan snow resort of Arachova. Explore the Neromanna spring and follow ancient paths to enjoy the view of the Olive Valley. Walk along the edge of an olive grove with 1.5 million olive trees and end your journey by the sea in Itea.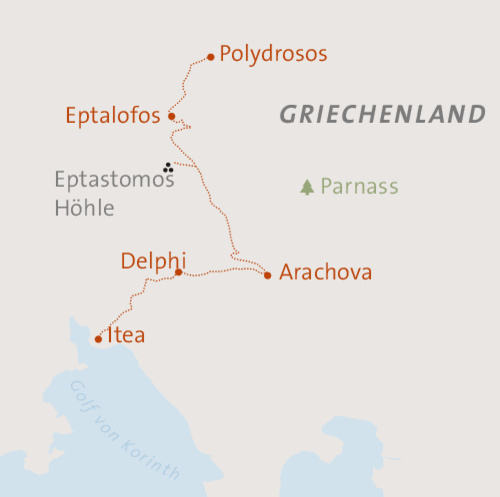 Delphi Trail - moderate
PROFILE
From accommodation to accommodation
Routes mostly well laid out and easily walkable, surefootedness required
7-day trek; alomst every day you have the choice of two routes at level 3 of difficulty
With luggage transport

HIGHLIGHTS
Walk along historical paths
Climb to the top of Mount Parnassus
Marvel at Delphi, the centre of the world

COMMISSION
20% net - bookings from 1 person up to 6
---
DOWNLOAD English version
---
DOWNLOAD French version
---
DOWNLOAD Dutch version
---